Welcome to Xavier Law School
I am happy to welcome you to the Xavier Law School! We at Xavier Law School look at law as an instrument of empowerment. Our pedagogy to study law is based upon the philosophy that we tend to look at the study of law from a different prospective- from the prospective of business and technology- without losing the sight of social commitment as the core value of legal education.
Yes we are a new School, but we are laying the path which others would be compelled to follow in future. The future is bright. As the founding Dean of Xavier Law School, I am committed to building on our already outstanding strengths in education and scholarship and invite you to browse our website, to connect with our faculty, to visit our campus.
Our goal at Xavier Law School is to enable students to learn, challenge & became leaders on the field. To learn the basic particulars of law, challenge the existing knowledge with new ideas and eventually became the leaders of the field. Xavier Law School is exceptional in terms of infrastructure physical/digital faculty & staff. I invite you to join us and be a part of an existing journey for a bright and successful career as a law professional.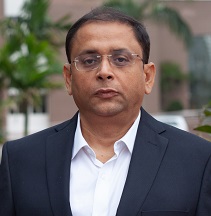 Dr. Narayan Chandra Sarangi
Dean, Xavier LAW School,
XIM University