With the motto to be one of the premier law schools in India, Xavier Law School is the first of its kind, in terms of facility & in teaching capacity building. Currently, the school offers 5 year integrated BA LLB (H) & BBA LLB (H) programs at the undergraduate level. These above academic programmes are recognized and approved by the Bar Council of India.
B.A. LLB (Hons)
BA LLB is an abbreviated version of the popular integrated Bachelor of Law course at undergraduate level. This course B.A. LLB (H) is an integrated course of a degree in bachelor's in arts. The duration of the programme is five years and the eligibility to apply for this is 10+2.
B.B.A LLB (Hons)
B.B.A LLB (Hons) is the course which is offered widely throughout India in all leading law facilitating colleges and universities. The B.B.A LLB (H) provides for bachelor's degree in business administration as well as law.
DURATION OF THE PROGRAMME:
Both B.A LLB (H) & BBA LLB (H) programme consist of ten semesters spread over five academic years. Each Academic Year consists of two semesters and the duration of each semester is approximately five months.
The programme blend five years of regular course work, training, internships and seminar series. The program's contextual approach to law means that it asks for consistent work and ensures that students' full commitment throughout the course. In return, the School provides all the support and advice needed to help students to realise their full potential. The programs also adopt methodology of studying legal judgements and statutes where it enables students to gain valuable insights into the impact of economic, cultural and political change on law, and consider how law affects life beyond the courtroom and the lawyer's office. The programme also adopts different methodology or strategy to enhance students' knowledge, personality, confidence and attitude by providing opportunities by engaging them in different legal, research, writing and independent learning skills, debate, competitions and their comprehensive understanding of the law Periodical assessments, presentations, snap test, quiz test and group discussions are few methodologies that give students enough space to show and build their immense talents.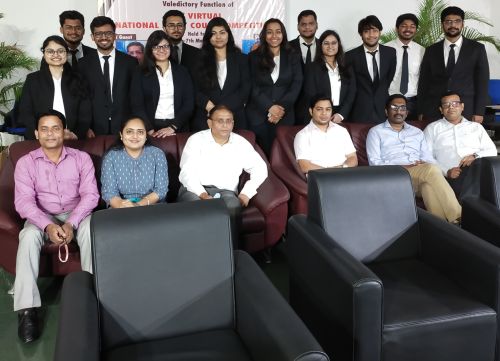 Teaching methodology consists of lectures, exercises, cases, role plays, presentations, project-work, term papers, etc. Each instructor uses a suitable mix of methodology to suit the requirements of a particular course. Simulated settings such as courtroom exercises and mediations maximize participation and develop professional skills. Students in a course are likewise evaluated in various components, viz. quiz, mid-semester examination, end-semester examination, cases, role plays, and other assignments. Course outline / session plan for every course specifying the contents of the course, the methodology and the norms for evaluation is uploaded in the Academic Information System (AIS) at the beginning of a semester. Personal consultation/ with instructors are actively encouraged to build capacity. Moreover, there is constant dialogue/debate in class on contemporary issues pertinent to the curriculum. Each course also includes a project assignment to develop research, analysis and writing skills. The school has also invited leading lawyers, experts and academicians, and retired judicial officers, for lectures, seminars and discussions with students and faculty.
Admission to the B.A. LLB (H) and B.B.A. LLB (H) programmes are open to the following categories of students:
Final selection of the students shall be done purely on merit which shall be decided on the basis of academic performance in class 10 and class 12 examinations, valid Entrance Test score – CLAT/AILET/XLET and Personal Interview.
Applicants are required to fill-up the application form online at:
www.xub.edu.in
 . Upon successfully filling the online application form and paying the relevant application fee, the applicant will be intimated by email about the acceptance of the form.
CURRICULUM/SYLLABUS : B.A LLB (H) & B.B.A LLB (H)
XAVIER LAW SCHOOL SYLLABUS

General Principles of Management

Sociology & Social Issues-II

Legal Languages and Art of Advocacy

Basic Principles of Accounting

International Institutions

Basic Principles of Accounting

Change Management & Development

Human Resource Management

Law of International Trade

Drafting, Pleading and Conveyancing

Competition Law/Merger & Acquisitions

Private International Law